Responding to the Taal Volcano eruption
---
Ministering to people in need is the SVD way.
Most missions start with careful planning and strategic staffing but sometimes emergencies occur without warning and require a swifter response.
That's what happened on Jan. 12 when Taal Volcano in the Philippines, located about eight miles from The SVD Seminary in Tagaytay City, erupted. The explosion sent ash and steam into the air for miles, prompting tens of thousands of people in the area to evacuate for safety.
Without hesitation, seminary staff did their best to notify area residents immediately that the school's doors would be open to anyone seeking shelter. The institution's offer was picked up and shared internationally through a number of news outlets and social media accounts. According to news reports, on the night of the eruption, many residents were stranded by heavy traffic or unable to travel due to poor visibility created by falling ash. By evening, the seminary became a sanctuary for residents who found safety in the SVD's generosity.
It wasn't long after that the threat from the volcano and the air quality were determined to be too dangerous for those in close proximity, so the Tagaytay Seminary was evacuated, too. The lush vegetation on the campus was covered in a heavy blanket of gray ash as the evacuees and seminary residents prepared to leave.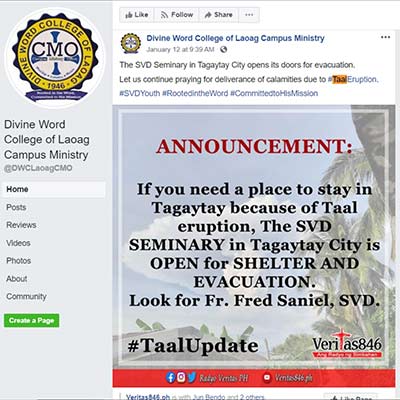 Wearing masks for their protection, students and faculty left the school and were relocated to Christ the King Mission Seminary in Quezon City, about 50 miles away. In no time at all, they had gone from offering assistance to needing it themselves.
Thanks to the generosity of the SVD seminary in Quezon City, they found shelter, safety and hospitality there.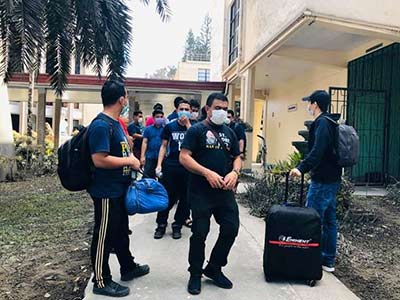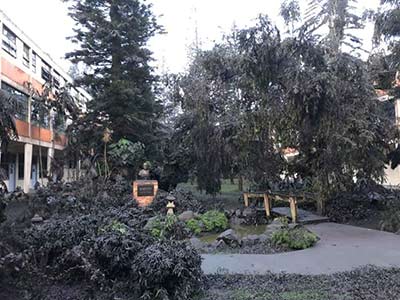 Taal Volcano remained on Alert Level 4 for two weeks following the eruption, indicating that another hazardous explosive eruption was possible within hours to days, according to the Philippine Institute of Volcanology and Seismology which. Everyone in a 14-kilometer radius (about 9 miles) was considered a part of the "high-risk zone" and advised to remain evacuated. On Jan. 26, the institute reduced the risk to Alert Level 3, indicating a decreased tendency toward hazardous eruptions.
As for The SVD Seminary in Tagaytay City, it will take time to restore the facility and grounds to their usual cleanliness. Thankfully though, in the meantime the community can continue to count on the SVD's spirit of generosity. The ordination ceremony that was scheduled for early February at the SVD Seminary in Tagaytay City has been relocated to Christ the King Seminary in Quezon City.
That's the SVD way – to be of service to those in need.
Please pray for the people who live and work in the area surrounding Taal Volcano.