Finding Meaning with Mother Mary on CTP
---
Frater Minh Dinh, SVD, wasn't planning on Portugal. He was thinking of three other countries for his Cross-cultural Training Program (CTP), the one-to-three year, sometimes-rigorous experience that gives young SVDs a real taste of missionary life. The leadership at his SVD house in Chicago—for good reasons—turned down his choices and instead, asked him to consider that European country, which also happens to be home to one of the world's holiest shrines.
"It was the Will of God for me to go to Portugal," Frt. Minh said. "I often went to Fatima and came to understand why Mary is so important in my religious life."
In Portugal he also encountered people—young and old—who touched his heart in many ways, but his journey to that point took many twists and turns.
Born in 1990, he grew up in Saigon where his mother and father own a business. He studied English and at 16, he was sent to join his brother in the U.S., where they would hopefully get a better education and return to carry on the family trade. Living in Champaign-Urbana, Illinois, Frt. Minh completed high school classes and frequently went to Chicago to visit his uncle, now-Father Ky Dinh, SVD, who was at that time living at the SVD Theologate and taking classes at Catholic Theological Union (CTU).
"At first I was not interested in religious life but I was inspired by his way of living, his faith and fidelity," Frt. Minh said. "I could see this as a possibility in my life."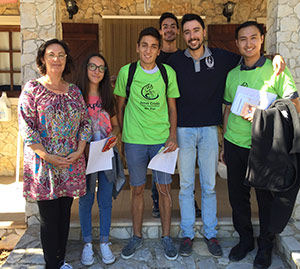 In 2008, he graduated high school and enrolled at the University of Illinois-Chicago to studying business management. That same year, Fr. Ky was ordained. One of Fr. Ky's classmates, Fr. Joseph Chau Nguyen, SVD, became a vocation director at Divine Word College. In 2010, he convinced Minh—who had a growing sense of emptiness in his career path—to visit DWC during Mission Sunday. He didn't really want to go.
"But when I got there, I saw the genuine joy of religious life in the sisters, the priests, and the brothers," he said. "I did not encounter that in my studies at the university, or the people that I met in the business area."
He returned to Chicago. Two years later he was awarded a bachelor's degree but the emptiness he was feeling about his future continued. Because he had earned a four-year degree, he could enroll in DWC under the associates program and experience religious life for a year.
"It was difficult for me to trust others in a business school, it is so competitive," he said. "But at Divine Word College, the religious brothers and sisters and the priests helped me to learn how to trust people. That transformed me to trust God and trust the SVD."
In 2013, he entered the SVD Novitiate at Techny and professed his First Vows the next year. Then it was on to the Theologate and two years of community living and studies at Catholic Theological Union. In 2016 came the decision to go to Portugal for his CTP. After a year learning the language in Lisbon, he traveled to a parish in Minde, where he assisted two SVDs, one from Indonesia and one from India.
Working with the people of the parish was a revelation. Secularism has taken its toll and fewer attended Mass. Many, especially young people, lead lives filled with distractions and have not learned what their faith is about.
Yet there were sparks of faith life among the people that did inspire him and the kindness and the simplicity of the people touched his heart.
"From the elders, I learned about the history of the local church, about their traditions and culture and they told me stories and traditional songs and prayers that were inspiring," he said. "The children do seek Christ even though they don't put it that way. They search for goodness and truth. They are searching for a good life."
His workweek was full, but Mondays were a day off and time for Frt. Minh to visit the Holy Shrine of Fatima, where the Virgin Mother appeared to three shepherd children in 1917. Once or twice a month, he would make the 20-minute bus ride to the shrine where he encountered the deep faith and devotion of the people for Mother Mary.
"This is what I have been missing for all these years in my life, an intimate relationship with Mary," he said. "The more I prayed to her, I see the humanness in her that connects my humanness, my weaknesses, to the humanness of God, which is Christ."
Frt. Minh is living at the Theologate and continuing his studies at CTU, which will include an additional master's degree in ethics. He hopes to profess Perpetual Vows in 2020, and be ordained in 2021.
"Becoming a member of the SVD has been a good thing for me, but for young people considering this life," he said, "be serious in your relationship with Christ, because only in this relationship, I strongly believe, does our call to vocation have meaning."