Conversion in the desert
Divine Word Missionary Priest has life-changing experience in Australia
Sometimes God surprises us all – even priests.
That's what happened in 2016 when Fr. Michael Quang Nguyen, SVD, was reassigned from his role as a teacher at a Melbourne school to a mission serving Australia's Aboriginal community in the vast desert.
Certainly he knew that the landscape would be different as he traveled with the nomadic group, but as a missionary priest, he felt sure of his ability to spread God's Word, offer Mass and perform sacramental rites.
However, he quickly found himself challenged by the new assignment in a way he'd never experienced before. He felt like the people wouldn't even speak to him most of the time. In one instance, he made arrangements to say Mass the following day at a particular time and thought he had an understanding with the Indigenous people about their plan. The next day, he showed up after traveling on the road for hours and no one was in the designated location. In fact, the whole community appeared to have moved without notifying him. Alone and frustrated, he jumped in his vehicle and decided to head back to the city.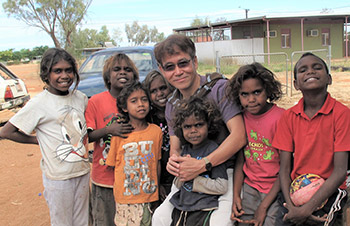 On his drive, Fr. Michael saw the group along the roadside. He pulled over and asked for answers about why they left him. This encounter is not Fr. Michael's most pleasant moment but he knows now that it led to one of the greatest lessons he's ever learned.
The Indigenous people, it turned out, were not trying to snub him. They were not ungrateful for his presence or service. They were merely living the life they had always known.
"I still don't know why that mob left that town and went to sit under the trees along the road that connected Alice Springs to that remote area," he said. "They have many reasons, but they would never tell you. So I said fine, I just sat next to them and said nothing more. We were all quiet. That is normal for the nomadic people, they don't talk a lot like us. And they said Father, can we have Mass? I said of course, why not? And then we celebrated the Mass, baptized children, taught some confirmation and then I left. On the way home, I felt happy that I was converted."
In time, Fr. Michael learned to slow down and embrace the long periods of silence that are customary for the Aboriginal people. He would sit and with increasing patience, he would wait. Eventually, they came to accept him and include him in conversation.
"The more they got to know me, the more they embraced and accepted me and looked at me as an Indigenous person," Fr. Michael said. "They shared their own culture with me. One of the reasons that they were not at the chapel was because the kangaroo returned to the area.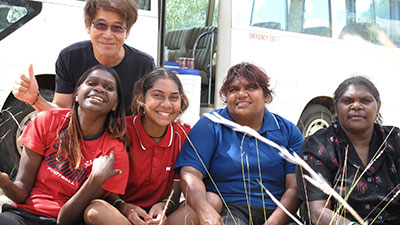 The nomadic people, they surrender themselves to whatever food is provided by God in the desert. So when they knew that the kangaroo returned to the area, they went out. Eventually they told me that but in the beginning, I didn't know."
By the end of his four-year experience, he realized that the deep connection he felt to the Indigenous people was more than just a learned acquaintanceship. It stemmed from a shared sense of profound loss.
The Aboriginal people of Australia were subjected to a tragedy known as The Stolen Generations. Starting in the early 1900s, for more than half of the century thousands of Indigenous children were taken from their families under government policies that aimed to assimilate them with white Australians. The kids were relocated to institutions, foster homes or adopted by non-Indigenous families while their parents were sent to detention camps. The policies that allowed this horrific destruction of culture and family were changed in 1969. Then in 2008, the Australian government issued a formal apology but the trauma from this chapter of the Indigenous people's history is not easily healed or forgotten.
In some ways, Fr. Michael could relate to the feeling of being completely uprooted. Born in Saigon, he was just 13 when he saw the first Viet Cong tank roll into the city on April 30, 1975. His whole world turned upside down. In the coming years, he and the people in his community suffered from starvation. He recalls walking to school with an empty belly and knowing that there wasn't so much as a single bowl of steamed rice to spare. In 1982, he was one of the many refugees who fled Vietnam by boat. During the four-day journey, women on the vessel were sexually assaulted by the Thai fishermen on board and the men were beaten – it haunts him to this day. After landing in Malaysia, he later moved to San Jose, California but the experience of leaving his home country under such volatile circumstances stayed with him. He could never truly visit "home" because the place where he grew up no longer existed as he knew it. The same could be said for Australia's Indigenous community.
After spending some time getting to know about their history and realizing that the community wasn't rejecting him but rather accepting him slowly and cautiously, Fr. Michael developed a love for the people. He could relate to their hesitancy and understood why they were not quick to trust.
"I had to attune myself to their needs and when I did, I became happier and happier," he said. "I had to learn to not impose myself and my way of life on the people. We don't bring God to the people, God's already in the desert."
He learned to observe, listen and be present.
"I am evangelized by the people I'm supposed to evangelize," he said. "The more I am converted, the more I earn the benefit, nobody else. The benefit is that I'm becoming happier and happier."
Due to the COVID-19 pandemic, Fr. Michael has been living temporarily in the United States. Once it's safe for him to travel, he'll begin teaching again in a country that is yet to be determined. He says his heart remains in Australia with the Aboriginal community and he hopes to be reunited with them some day.