As a missionary, I serve as a priest-chaplain at a VA medical center
by Fr. Ignacio Estrada, SVD
I am a priest-chaplain at the VA Medical Center in Loma Linda, California. In my work, I am frequently asked by the veterans, "Father, where is your parish?" Usually I share with them what I do as a priest-chaplain and soon enough they realize that you don't need to have a local parish in order to be fully a priest.
Sometimes I even hear my religious confreres say things like, "priests should have a full-time parish. Chaplaincies are a kind of semiretirement ministry." Little do they know the spiritual care that is involved in a faith-based healthcare system such as the one I work in. It is committed to the care of the whole person—mind, body, and spirit. And it is not limited to sacramental services. It is not about carrying around a "mobile tabernacle" or "church." It is about offering the patients a sacred encounter. It is about letting the "Divine" become a true and real experience for both of us.
Prepared but flexible
In the parish setting, preparation and scheduling are all-important. In my ministry, I do prepare, but outside of the most general guidelines, scheduling is impossible. I am tossed directly into medical situations that are always changing. I must deal with all the cultural, religious, sociological, and psychological dynamics of the patients, the staff, and the institution. As an example of this, I recall the request of a patient's wife who insisted that her husband wanted every possible measure to be taken to restore his health, regardless of the cost or burden. She disregarded the fact that her husband's condition was rapidly deteriorating. He was attempting to pull the tracheotomy tube from his throat and gesturing that he could no longer endure the "extraordinary measures" his wife insisted upon. When the care team tried to discuss his condition with her, she told the staff that they didn't know her husband as she knew him. She accused them of conspiring against the wishes of her husband.
When the team asked me to intervene, I tried to give her supportive and honest advice. Since she was a Filipino Catholic, I was already quite sensitive to her cultural, religious, and historical background. I found out that her husband had a military career. He was a World War II veteran and fought in the Vietnam War. She believed he would pull though and said, "He fought wars his entire life . . . and won them all." She related how he survived his liver transplant, which she called "a miracle of God" and believed that God would grant another miracle.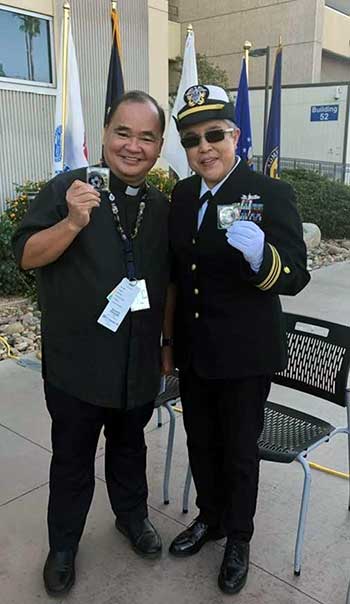 I tried to help her grasp the situation, saying that her husband had been a young and energetic man of 55 when he got the liver transplant. Now, they are both in their late 70s. I also explained the Church's position on extraordinary means to sustain life and invited her to pray and reflect on what her husband would want for himself. Gradually, she began to let go and let God take over. She said, "We were never meant to belong to this world forever." After a couple of days, she asked for him to be released to palliative care.
Conversations like these are part of my everyday experience. They demand time, empathy, and sincerity. My Catholic patients comprise about one-third of the patients under my care. When serving the non-Catholics, I try to give services and referrals in keeping with their needs and religious beliefs. When I meet a Catholic and a non-Catholic in the same room, I introduce myself to each and explain my duties as a Catholic priest to the non-Catholic. The results are usually happy for all. I am not there to preach or proselytize, but to respond as best I can to the patients' situation and spiritual needs.
A channel for God's presence
Ministry to the patients' families is another big item. I try to assure them that we never journey alone—God is always there with us. This is my theology of spiritual care. I see myself as a "catalyst" or as a "channel" of God's Divine Presence to those who are in most need of it. The patients and their families are infused with God's presence. We all are, but we don't always feel it or encounter it. Enabling this encounter drives my ministry. When I enliven it in others, I feel touched by it myself. When this happens, it goes beyond the level of "human understanding." And there, I know I am blessed.