Seminarian follows his faith, learns to lead
---
Friday Onoja wasn't sure he wanted to run for Student Senate President last year when his friends at Divine Word College Seminary in Epworth, Iowa urged him to give it a shot.
He worried it could be more responsibility than he wanted in his junior year at the four-year college but Friday stepped into the role earlier this year and says the office has proven to be a great learning experience.
"I really appreciate it because it's given me a sense of leadership," he said. "You have to know how to relate to people, be organized, coordinate people and coordinate yourself when you have responsibilities. So for me, it's a starting point for leadership."
The 32-year old first started considering religious life back when he and his friends were altar servers in his home country of Nigeria.
"We would make jokes that when we finished primary school, we were going to wait for each other, then go to secondary school, graduate together, enter the seminary together and have our ordinations together," he recalls.
As is often the case though, time passed and the friends went their separate ways. Friday says he continued to contemplate religious life but stayed busy with other adventures after school.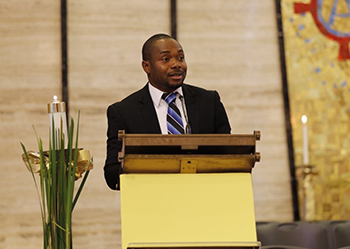 In 2014, he accepted a job in Ottawa, Canada as domestic staff to the deputy high commissioner, who was the Nigerian ambassador to Canada. He found his new role fulfilling – it even allowed him an opportunity to enroll in financial accounting classes to further his education. Still, after a semester of studies, he says his focused shifted back to the priesthood again.
"The thought was still deep within me. Even though I was in Canada, it didn't leave me," he said.
Careful not to rush into things, he analyzed his options and considered four different religious communities. After meeting with a vocation director from The Society of the Divine Word, Friday said he felt drawn to the intercultural aspect of the congregation and in 2016 he arranged a Come and See visit.
"I experienced what was going on in student life, the classes and community," he recalls. "I was really intrigued with the experience and I was like, 'I'm going to apply straight away.'"
Now as a leader at the college, a place where cultural differences could easily lead to division, Friday and the other Student Senate members are working to encourage unity and support.
Like most kids in Nigeria, Friday started learning English in nursery school so he speaks it fluently. Still, he recognizes how vulnerable ESL students must feel when speaking in front of Americans. At this year's Lunar New Year celebration, Friday decided to lead by example when he stepped outside his comfort zone and sang a song in Vietnamese in front of the entire student body and DWC community.
"One important thing I learned is when you get here, you need to try to put your own culture behind you a bit and embrace other people's cultures," he said.
Friday participated in the celebration of
Lunar New Year 2020.
Fittingly, he played the King!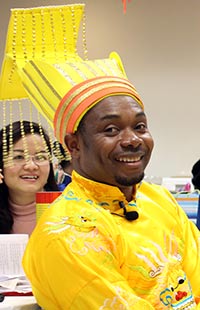 After a lifetime of feeling called by God to pursue religious life, Friday said he worried at first that the seminary experience may not live up to his expectations or that perhaps the challenges of being a seminarian would be too great but after three years in the program, he's found the experience to be positive and fulfilling. Friday is excited to enter his pre-novice year in the fall and continue his formation journey.
"(Pre-novices) look at the Church as a whole to see if it's something they think that God is calling them to," he said. "I'm looking forward to it."