From military to seminary: DWC student seeks missionary life after converting to Catholicism
---
Sometimes you have to travel the world in order to discover exactly where you belong.
That was the case for Divine Word College pre-novitiate candidate Sam Lollar who was raised Baptist and is now preparing to become a Catholic Divine Word Missionary priest.
As a child growing up in North Little Rock, Ark., his dad wasn't around and his mom worked very hard to take care of him. He was fortunate enough to have friends and teachers from a variety of faith backgrounds who helped guide and influence him throughout adolescence. When Sam was in the fifth grade, his teacher would bring him lunch some days. She'd also tell him stories about saints, captivating his attention.
"That's really where my first encounter with Catholicism came from," he said.
After high school, Sam entered the U.S. Air Force and worked as an avionics technician. First, he was deployed to the United Arab Emirates where he worked long hours, rarely leaving the base. Still, he was happy just to be someplace new. Then in 2008, he was deployed to Ecuador where he met the locals, learned a bit of the language and had his eyes opened to a culture that was very different than his own for the first time. It sparked a missionary spirit in him that he could not ignore.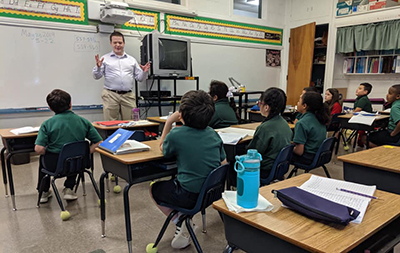 After six years in the Air Force, Sam entered the Air National Guard as a chaplain assistant, pursuing his interest in ministry. Again he had the chance to talk with people from a number of religious backgrounds and again he found himself drawn to Catholicism.
"A lot of times, because of my personality and my interests, they often said that I would make a good priest," he recalls.
He earned an AA degree in Modern Languages with an emphasis in Spanish at a community college near the base and then continued his education at the University of Oklahoma where he earned his Bachelor of Business Administration degree with minors in Economics and Spanish.
While working as a chaplain assistant, Sam's Catholic supervisor asked if he'd be interested in taking Rite of Christian Initiation of Adult (RCIA) classes. When Sam affirmed his desire, the supervisor volunteered to sponsor him. A few months later, in 2015, he was confirmed in the faith.
It wasn't long before Sam was meeting with priests and bishops regularly to learn more about religious life.
"I wanted to be able to work with people more one on one and I wanted to also preside over services. I really admired how (priests) were there during some of the most crucial moments in peoples' lives," Sam said. "I admired their service and their sacrifice. I felt that was the life I was drawn toward."
He went on a discernment retreat in New York and enjoyed it but said his heart was still set on missionary life.
Then in 2017, the Archdiocese for the Military Services had a retreat at the Techny Towers Retreat and Conference Center in Chicago, Ill., which is operated by The Society of the Divine Word. Sam says when he heard multiple languages at the center, saw the intercultural artwork and met people from around the world, he was instantly drawn to the environment.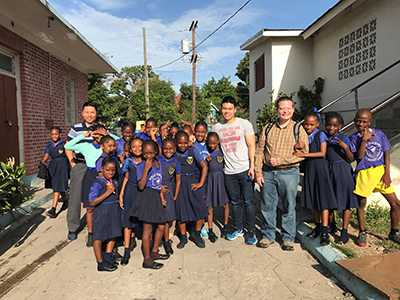 He contacted the vocation office after the retreat and set up a Come and See visit at DWC. Since he already had an undergraduate degree, Sam only needed three semesters of coursework at the seminary to be eligible to apply to the Novitiate in 2020.
"I've never been happier, I can say. I feel like I'm where I'm supposed to be," Sam said. "I feel a sense of peace and I feel very grateful to be here and to be an SVD candidate."