Fiftieth Anniversary of my Priesthood
---
Editor's Note:Bishop Terry Steib, SVD, professed First Vows as a Divine Word Missionary in 1959 and was ordained to the priesthood in 1967.He was ordained as a bishop in 1984 and served as the Auxiliary Bishop of St. Louis before becoming the fourth Bishop of Memphis in 1993.He retired in 2016 and reflects below about the 50th anniversary of his ordination, which he celebrated last month.
As I transition from serving as the Ordinary of the Catholic Diocese of Memphis in Tennessee and as I move forward into the next chapter of my religious and spiritual life, I am reminded that January 6, 2017 is approaching. Apart from being the Solemnity of the Epiphany within the liturgical cycle of Christmas, this date is significant to me because fifty years ago – January 6, 1967 – I, along with six of my classmates, was ordained a priest within the charism of the Divine Word Missionaries in Bay St. Louis, MS.
To know that one has been in priestly ministry for fifty years is in itself overwhelming. "Has it been that long?" I think. Yes, it has! "Have I served God and community, ministered to Church and people of God all this time?" Yes, I have!
I can only look back in wonder and awe at how God has led me this far by faith. I have come to believe that it HAD to be by God's grace because I personally would not have chosen the paths and avenues that I have had to walk. Upon ordination, I wanted to be in the mission. I wanted to go to work in Africa or Mexico, or the Southern Province – in that order! I was granted my last desire – believing that I would be working in one of our SVD parishes in the South.
When my provincial (Father John Bowman, SVD) told me that I was appointed by the Superior General to the Southern Province, I was happy. But when he said that I was appointed Assistant Prefect of St. Augustine Seminary in Bay St. Louis, MS and teacher at St. Stanislaus High School, it was not what I expected. Nonetheless, I learned "to bloom where I was planted."
All of my appointments and callings – be it through my superiors within the community or through the Holy Father to the episcopacy – were not appointments I would have chosen. To be in the mission and to serve in parishes were my goals, but I accepted my appointments as God's calling. They were strange avenues to me, but through it all, I found out one thing: God's grace was sufficient for me. And my God did not let me down!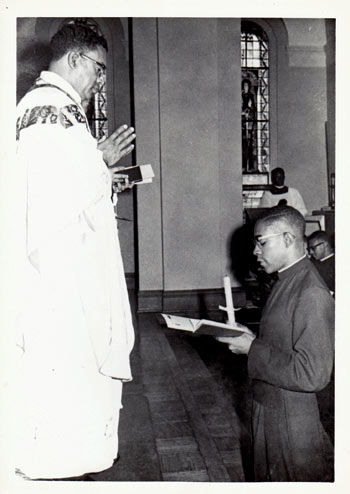 Looking back over the past fifty years, I am grateful to Almighty God for leading me and guiding me in ministry to God's people. I am grateful to my SVD community, particularly the members of the Southern Province, for their support and friendship over the years. I am grateful to my family for keeping me strong in the faith through their love for the Church. I am grateful to the people of God in all the places I served as pastor and shepherd. Worshipping and praising God together, educating and being educated together, serving each other and the poor together allowed us to be the face of Jesus to each other, to our parishes and neighborhood, to our nation and world.
I ask kindly that you continue to pray for me as I move into the next chapter of my priestly ministry.
Another article about Bishop Steib appears in our archives.To access that article about his vocational call to the priesthood and the Divine Word Missionaries, please click here.