"He heals the brokenhearted and binds up their wounds" (Ps. 147:3)
---
My vocation call came in stages. My first calling was to be a doctor. In my final years of medical school, I felt the Lord calling me to serve him among the poor and less privileged. Finally, I realized I was called to religious life, to become a religious brother and to serve the poor as a doctor. With that goal in mind and with trust that the Lord would nourish and develop what is the best in me, I embarked on a journey into the unknown. It has been a fulfilling journey and one that I have never regretted.
I completed medical school at the Medical University in Lublin, Poland, in 1986, and worked for four years at a hospital in Kozienice, obtaining my specialization in general surgery. It was during this time that I decided to enter religious life.
In 1991, I entered the novitiate and professed my first vows a year later. After novitiate, I studied theology in Pieniezno and worked part-time in a surgical ward in Braniewo. For the following three years, I completed my specialization in general surgery at Bialystok Medical University, did research, and completed my doctoral degree in medicine.
I began my work at a government hospital and served at a mission hospital in Papua New Guinea. Often I went on medical patrols to visit the sick in very remote areas of the Simbu Province, traveling by jeep, small airplane, or on foot. Some of these areas had not seen a real doctor for more than ten years. In all my journeys, I brought not only my medical bag, but also the Good News. To all my patients, I brought the message that God loves them.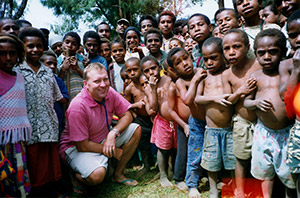 I soon learned that, unlike the United States or Europe, I could not refer patients to specialists. For example, there are only two radiologists in the entire country, both of whom are in Port Moresby, about two hundredand eighty miles away from the Simbu Province. To be effective, I had to acquire skills in many specialties, including obstetrics, gynecology, plastic and reconstructive surgery, urology, pediatric surgery and orthopedics.

Most recently, I have been working at a hospital and lecturing in the Faculty of Health Sciences at Divine Word University in Madang. I enjoy teaching and passing on my skills to young Papua New Guineans. Because of my teaching obligations, I have less time for medical bush patrols, except during holidays when I organize Catholic Health Service patrols to remote areas.
I have met many young people and children who have been sentenced to a life of disability because of the lack of proper medical care. To assist the disabled, I trained in orthopedics and found sponsors to help establish an orthopedic ward. The new twenty-three-bed facility services patients with trauma to limbs, spine, and other orthopedic problems. I am now working on a project to establish an orthotic clinic to produce simple prostheses, splints, orthopedic shoes, and other devices.
I cannot imagine where else my medical practice would be so diverse or so necessary. So, when I look back at my journey with Jesus, and when I reflect on the unique way the Lord has led me, I can say with joy: Thank you Lord. Thank you for your trust in me, despite my doubts and struggles along the way.
*This article is courtesy of the Divine Word Missionaries Mission Center in Techny, IL.