Celebrating a century of educating African American missionaries
---
A century ago, racism existed widely throughout the United States and the Catholic Church in America was, sadly, not much different. SVD founder St. Arnold Janssen, who was based in Steyl, Holland, firmly believed that a Black mission apostolate in the United States was a worthy cause.
Early in the 1900s, Fr. Aloysius Heick, SVD built a frame chapel in Merigold, Mississippi and hoped to open a Catholic mission school for Black children. Eager to gain support, he told white planters in the area about his plan, but instead of encouraging him, they threatened him. One day, according to Ernest Brandewie's book "In the Light of the Word," Fr. Aloysius witnessed a planter horse-whipping an African American child. The priest snatched the whip right out of the man's hand and scolded him for his cruelty. Undeterred, the planter and other Ku Klux Klan members threatened to tar and feather Fr. Aloysius if he stayed and continued with his plans to educate Black children. Fr. Aloysius left for his safety but the warnings didn't keep Divine Word Missionaries from trying again to educate people of color in the South. Just a few years later, churches and schools started popping up throughout Mississippi and expanded into Arkansas.
It soon became apparent to Divine Word Missionaries that African American priests may be more influential in gaining followers among the Black community. They began laying the groundwork to start a school dedicated to educating young African American men. In September 1920, the Society of the Divine Word opened Sacred Heart College in Greenville, Mississippi. Twelve African American men enrolled and Fr. Matthew Christmann SVD served as their rector, prefect and teacher. By the end of that year, enrollment climbed to 16 students. The growing interest energized organizers and reaffirmed their belief that the seminary could succeed.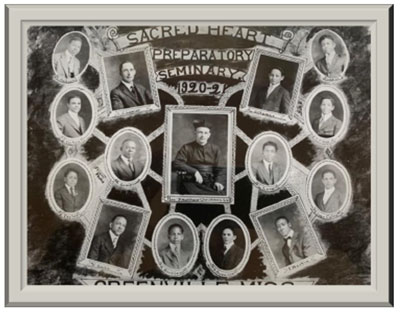 In 1923 the school was relocated to Bay St. Louis, Mississippi and renamed St. Augustine's Seminary
According to the St. Augustine's Seminary website, Fr. Christmann wrote this in 1926, "It must be clear to everyone that it is surely a grave injustice to exclude a whole race from the priesthood, principally because prejudice will greatly hamper them in their religious activities, or a cordial cooperation with white priests may meet with great obstacles."
In 1934, Divine Word Missionaries in America celebrated another exciting milestone when they ordained the first four men to complete the formation program at St. Augustine Seminary. Fathers Anthony Bourges, Maurice Rousseve, Vincent Smith and Francis Wade hold a special place in SVD history, as well as Catholic American history. Collectively, they are known as the First Four. Tragically, Fr. Christman, who fought to defend the right of African American men to be educated for the priesthood in the United States, didn't get to witness the momentous occasion because he died five years before their ordination.
Pictured at right:
SVD Fathers Vincent Smith, Francis Wade, Maurice Rousseve and Anthony Bourges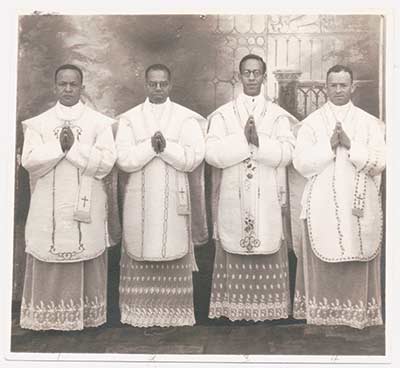 In 1943, Vincent Webb was the first African American man to profess perpetual vows as a Divine Word Missionary Brother.
The major seminary closed in 1967 and its students went to Techny, Illinois. St. Augustine's went on to become the Society's novitiate and also remained a high school seminary. In 1982, the high school closed, but the SVDs mark on American Catholic history was secure.
"For years (St. Augustine's Seminary) was practically the only place in the United States where a young black man who felt he had a vocation to the priesthood could go to test his vocation. Because of the pioneering work of this effort, other seminaries and religious orders began to accept and even actively recruit candidates from the African American community. By its existence and because of the success of its ordinands, St. Augustine's had accomplished the historic work God willed of it."
- "In the Light of the Word," by Ernest Brandewie