Preparing for real life on mission
---
The Divine Word Theologate in Chicago is more than a home for SVD candidates as they further their education to become Divine Word Missionary priests and brothers. It is also a place for personal growth.
"Formation at the Theologate prepares us for real life on mission," said Fransiskus Santoso, who is in his second year there. "We need to be self-sufficient, we need to know how to do basic things and Theologate prepares us for that."
Born in Semarang, central Java, Indonesia, Fransiskus was raised Buddhist, but attended a Catholic school and later converted. He came to the U.S. in 2001 and worked in New York City for several years before deciding to pursue religious life. He enrolled at DWC in 2009 and graduated in 2014. After professing his First Vows in 2015, he moved to the Theologate and his education in self-sufficiency began.
Interwoven into the regimen of prayer, classes, and study are periods where they do household chores like cleaning and cooking. There are more than 30 men living at the Theologate.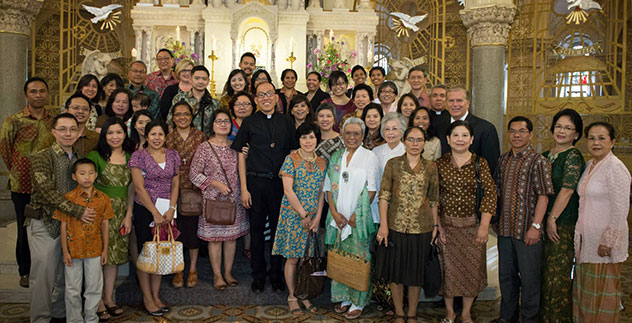 Besides SVD candidates like Fransiskus, there are SVD priests who teach at Catholic Theological Union (CTU), where many of them go to college, as well as formators and others. This larger community is broken down into three, small communities, each of which has its own living area where they meet, pray and eat.

"Each semester, each of us has to cook three times for our small community of eleven people," Fransiskus said. "I learned to cook Italian food and Asian food from YouTube and I like it."
Once a week, he also sweeps the floor and cleans the refrigerator as part of his duties for his small community. For the larger community, he prepares rooms for guests who visit the Theologate.
Away from the residence, during the summer after his first year, Fransiskus entered the Clinical Pastoral Education (CPE) program at an area hospital, where he learned how to be a hospital chaplain. After meeting many Hispanic immigrants, he now does ministry on the Southside of Chicago teaching English to a Hispanic woman. These experiences helped him decide where he would like to go for his Cross-cultural Training Program (CTP) next year, which will give him actual missionary experience—Paraguay.
"I think the Theologate is a blessing and also challenging," he said. "Everything depends on your maturity, because there is no one who is going to check on you, the formator will give you freedom but you have to use it wisely, not to abuse it."