I thought I would be a superhero
---
The life of a missionary is something that I've dreamed about since childhood. I always wanted to go to Africa and learn about the people's cultural diversity and then try to help them through my gifts as a missionary. I thought that I would give them all of my talents and serve them like a superhero, but now I have come to understand that the mission is not always as smooth sailing as my imagination presents it. The mission has come with a lot of hurtful, painful and unexpected pitfalls because the missionary journey is made of different faces. Each of these faces is a mystery with many histories, successes and failures, too.
I'm originally from Argentina, and since becoming a missionary, I've been working in Southern Africa. I've spent most of my time in Botswana but have also worked in South Africa and Zimbabwe.
For me, the most beautiful thing I have experienced is that the mission is full of faces. All of them show me a brightness that I have not seen anywhere else. The smiles here are unique and cute. The people look happy and I'm pretty sure that they are. I can count hundreds of faces through my interactions with them so far, all revealing a pure and lovely soul embedded in them.
The people always sing and dance. They show me that I should enjoy my life more and stay happy. Even though they have big smiles across their faces, I know that their lives are not easy. The most beautiful and amazing scenery here is on the ever-smiling faces of the children, who constantly follow me around calling me lekgoa, which means "white guy." They ask me all kinds of questions in their native language, called Setswana, as they play. I like playing soccer with them because they compare me to Lionel Messi, who happens to be my countryman and one of the greatest soccer players of our time. The kids enjoy games and I use these moments to get to know more about them as they also get to know me.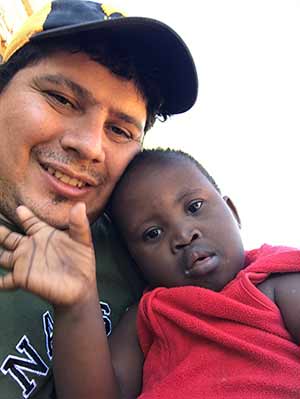 It's amazing and at times frustrating to note that the huge smiles on their faces are met by seemingly big social problems. The children tell me about their lives and most of them are living with their grandmothers. They're growing in love but in difficult circumstances, such as poverty or dealing with a drunken father or uncle at home. In the faces of older people, I see the clear signs of a hard life. For many of them, it's the result of social challenges created by poverty. For others, it is having to raise young grandchildren left behind by their own children who died from the HIV/AIDS epidemic.
Botswana is mainly a desert country, which means water is a rare commodity. That means most people work hard for it and many walk long distances to get water. To die is part of the life on earth but amazingly for them, when someone dies, everyone attends the funeral and it lasts for almost a week. When I attend the funeral prayers the evening before the deceased person is buried, the faces of those attending the service continue to shine brightly.
Praying with the people of Botswana is an important part of our mission. Whether they are celebrating life or attending a funeral, the community here is always singing and remembering that God blesses them.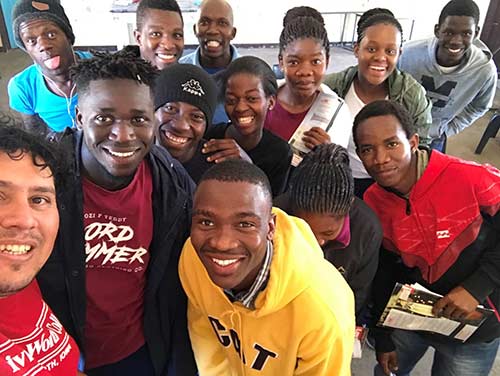 Bro. Dario is originally from Córdoba, Argentina. He entered formation for the Society of the Divine Word in 2013 and professed First Vows in 2015. He traveled to Divine Word College in Epworth, Iowa, to study English in 2018 in preparation for his Cross-Cultural Training Program in Botswana. He will stay in Botswana until December 2020 and then return to Argentina. He plans to profess Perpetual Vows as a Divine Word Missionary in 2021 or 2022.