Transformational Encounters
---
The catchphrase "Culture of Encounter" has gained in popularity and inspiration under the papacy of Pope Francis. Encountering another is never an act of an autonomous self, but rather encountering the other with Christ. Only when I risk stepping out of my dominant, sterile storylines of religious life do I begin to see the other through the eyes of God. Gradually, a more expansive self emerges by denouncing exclusion and isolation in its every form.
My encounter with an urban Clinical Pastoral Education (CPE) context of practice and reflection was accidental. Nonetheless, the setting of im­mersion and reflection is intentional with those on the margins and peripheries of society, those preferably unheard or delib­erately not listened to. In general, they are those considered least among us.
Since last May, I have been volunteering and doing my CPE at Bonaventure House, founded by Alexian Brother Felix Bettendorf for people with HIV/AIDS in Chicago. The founding of Bonaventure House was a prophetic outreach by the Alexian Brothers at a time when many institutions were shying away from such commitments mainly due to the stigma and ignorance attached to the sickness. Today, Bonaventure House is a transitional living and recovery home where people with HIV/AIDS come for healing and personal empowerment to return to a normal life.
As an intern, I have been accompanying clients, helping them heal from any stigma and injustices they have experi­enced because of hurt caused from churches, families, sexual orientation, homelessness, sex, race, gender, and societal status due to HIV/AIDS.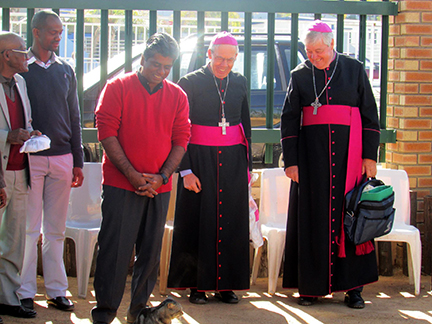 The process of healing takes place through one-on-one companionship and by conducting group programs that foster mutual healing. The most powerful experience we share together is while having lunch together at table. It is at this inclusive table that I am face to face with the excluded while sharing in their brokenness and experiencing the table as a place of connection and blessing.
At the Eucharistic table, we celebrate this same encounter: what we eat, where we eat, and with whom we eat. The distance between those two tables defines the core of mission as an attraction. As Pope Francis stated during his sharing for World Mission Day 2018, "Every man and woman is a mission; that is the reason for our life on this earth. To be attracted and to be sent are two movements that our hearts, especially when we are young, feel as interior forces of love; they hold out promise for our future and they give direction to our lives." Encounters impel and compel us to mission. As we walk with those on the peripheries of society, the margins make us different, they change us as well. As Fr. Gregory Boyle beautifull­y states, "We don't go to the margins to make a difference. We go to the margins so that folks at the margins will make us different."
Fr. Shiju Paul, SVD, was born in Kerala, India and is the second of five children in his family. He professed First Vows as a Divine Word Missionary in 1997 and was ordained in the Syro Malabar Rite together with his older brother who belongs to the Congregation of Carmelites of Mary Immaculate (CMI). His youngest sister is a member of the Sisters of Saint Joseph of Saint-Marc.
After his ordination, he served as a vocation promoter in India prior to being missioned to the Zambia District of the Divine Word Missionary's Botswana Province. There he served in many ministries, including parishes, assistant novice director and two terms as provincial superior. Most recently he has been in the Society's Chicago Province working in formation ministry at Divine Word Theologate in Chicago, IL, while participating in a doctoral program at the Academy of Theology and Spirituality in Tampa, Washington. He is participating in the urban CPE program at Bonaventure House as part of his doctorate program. Bonaventure House is a residential recovery center for people living with HIV/AIDS and provides supportive transitional living and a recovery home for individuals who are homeless or at-risk for homelessness and have been diagnosed with HIV/AIDS.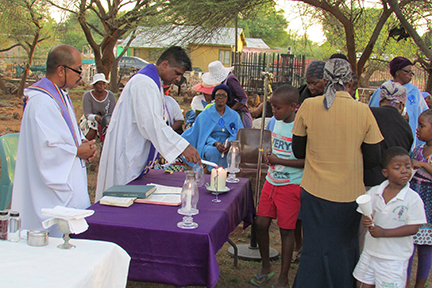 Fr. Shiju wrote, "Internship of my study program immersed me well in to the American cultural milieu especially that of the marginalized that included people with HIV/AIDS, LGBT community and the homeless. I am persevering to walk the Christ path through these engagements so that I may unfold gradually and fully in to the great mystery."