The year spent at the SVD Novitiate at Techny is about discovery. It is a place where novices like An Nguyen find the freedom to discover God's call in their lives—even if it is not the call to be a Divine Word Missionary.
"When I came here, I was told that it would be OK if, after this program, I went out and got married or if I became a diocesan priest or if I decided to continue with the religious life of the SVD," he said. "The SVD wants me to see what God's will is in my life, and to know my challenges and my gifts —to see myself clearer."
Growing up in Saigon, Vietnam, An and his family came to the U.S. in 2010, settling in Sacramento, California. He attended a community college, studying biochemistry with the goal to be a pharmacist. He got to know an SVD in Sacramento, who noticed that he went to Mass daily and was active in the parish. After attending a Come-And-See at Divine Word College in the fall of 2012, An enrolled the following January.

"I liked it at DWC, the life, the praying, to know more about God and to experience more about Him and how God touches my life," he said. After graduating in May, 2016, he decided to continue exploring his call to religious life with the SVD and applied to the novitiate.
"The thing that I appreciate in the SVD is the openness to differences of other people, their culture and language and how people interact with each other," he said. "They try to accept others, and to see the good points and the bad points of each individual and to bring out the best of each of us."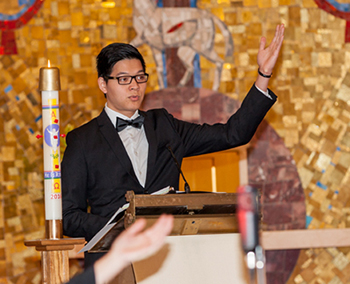 The novitiate allows An time to continue his observations about the SVD. His daily routine includes structured time for prayer, meetings, and classes as well as unstructured time when he can reflect on God's call in his life while finding out what is important to him personally. For instance, novices are encouraged to pursue hobbies or interests that they may not have attempted before.
But in the end, the novitiate year is about self discovery and the struggle to find out God's call in each young man's life, whatever it may be.
"Right now, I am struggling very much in making the decision, yes," An said. "But I am happy that I am struggling because struggling is actually a sign that I'm really working on it."