Ghana missionary living a rich life
---
It's easy to focus on the things a religious priest has to give up when he professes perpetual vows of poverty, chastity and obedience. These words evoke feelings of restriction – a lack of material possessions, a lack of physical love, a lack of personal choice – but that perspective fails to acknowledge what a man gains from these same vows.
Fr. George Clement Angmor, SVD says his work as a missionary provides a life of fulfillment and abundance. Born and raised in Ghana, Fr. George was ordained in 2000.
He wasn't always so certain that he was cut out for the priesthood. Fr. George delayed his entrance to the seminary for years while he discerned his call and pondered what religious life would look like for him. It took time for him to confirm his calling but since doing so, he says he's found beauty in community life, inspiration from fellow missionaries, well wishes from family and friends and a more serious focus on his spiritual life.
For three years, he worked as an assistant priest at a church before being transferred to work on the formation team at St. Freinademetz House of Philosophy for a few months. Next, he spent a year as the chaplain at St. Paul Technical School in Kukurantumi while simultaneously serving as the priest in charge of a quasi-parish in the same town.

In July 2005, Fr. George moved to the Philippines to study for his master's degree in guidance and counseling at the De La Salle University of Manila. After completing the program in 2008, he returned home and was appointed director of novices at the Divine Word Novitiate. In June 2014, Fr. George was
elected Provincial Superior of the Ghana-Liberia Province. He went on to serve two terms in that role at the SVD Provincialate in Accra, the capital city of Ghana. In May, Fr. George completed his second term.
While he does not have a wife and children of his own, Fr. George says his role as a priest has helped him create deep, lasting friendships. By ministering to families, he shares in their joys and challenges.

"To this day, apart from my own family, I have close family ties with a number of families in Ghana, Kenya and the Philippines," he said.

Certainly, religious life presents some challenges, too. Fr. George said he cherishes the relationships he has built with his fellow missionaries but like any work environment, sometimes there are conflicting opinions. The inherent diversity of the congregation also presents "many shocks and biases, as well as inherent riches."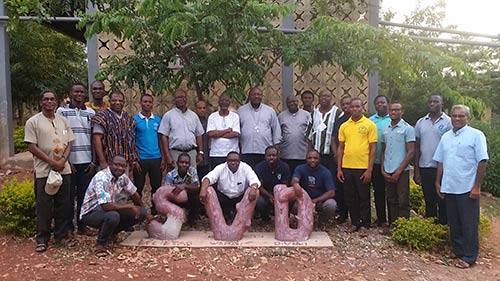 Fr. George (far left) stands with students of St. Freinademetz House of Philosophy
"Just as Jesus promised in Matthew 19:29, the totality of all the joys I experience today far exceeds what I could imagine before putting my hand to the plough of the priestly religious missionary life!" he said.
And everyone who has given up houses or brothers or sisters or father or mother or children or lands for the sake of my name will receive a hundred times more, and will inherit eternal life. (Matthew 19:29)