The wide reach of education ministry
---
The term "missionary congregation" may evoke images of manual labor in developing nations, but that's not the only way the Society of the Divine Word reaches God's people. Education ministry has been an important part of the work that Divine Word Missionaries do around the world since the congregation's inception in 1875.
Fr. Dan Bauer, SVD, is an Ohio native who found himself pondering whether his call as a Divine Word Missionary priest could possibly be to the teaching ministry. Overcoming his own intellectual insecurities, he not only went on to teach, but has worked at Fu Jen Catholic University in Taiwan, half a world away from his hometown of Toledo, for 35 years.
An academic foundation
Fr. Dan's fascination with Asian cultures started at a young age. He recalls being particularly intrigued by Japan. His father served in the U.S. Navy in WWII and his uncle was stationed in Japan for several years after the war. While in high school at the Society of the Divine Word's former minor seminary in Perrysburg, Ohio, Fr. Dan's intrigue expanded as the Vietnam War captured headlines across the country.
In high school, he recalls being asked to select a country where Divine Word Missionaries were working. He and his classmates researched these countries, prayed for the missionaries there and even corresponded with them. Fr. Dan, naturally, chose Taiwan. He started writing to Fr. Bartley Schmitz, SVD, a Montana man who spent years as the English language secretary to Cardinal Thomas Tien, SVD, the first Chinese cardinal in the church. The two remained friends until Fr. Schmitz died at age 98 in 2016.
After graduating from high school in 1966, Fr. Dan earned a bachelor's degree in philosophy at Divine Word College in Epworth, Iowa before completing his novitiate year at Bay St. Louis, Mississippi. He was ordained in 1974.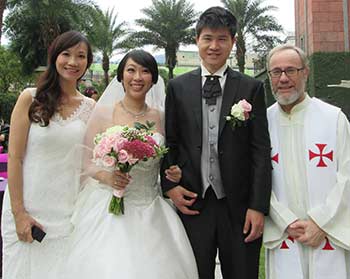 "I received a huge gift from God in the form of the education the SVD gave me all the way from age 13 in my freshman year of high school until I was ordained," he said.
By this time, Fr. Dan had his sights set with certainty on teaching. While studying for his Master of Divinity at Catholic Theological Union (CTU) in Chicago, he started writing to Divine Word Missionaries at Nanzan University in Japan and Fu Jen University in Taiwan. Both administrators advised him to pursue a master's degree in a non-theological field. So after graduating from CTU in 1975, he earned a Master of Arts in philosophy from Chicago's DePaul University. Later, he went on to earn his doctorate in Comparative Literature at the University of Wisconsin at Madison in 1988.
In high school, Fr. Dan says he wondered if he would be smart enough to teach at the college level. He found himself pondering if students in Asia would resemble American students of the same age. As he got older, he also dreamed of mastering a foreign language. During his studies with the SVDs, Fr. Dan had already learned German, Latin and some Greek. Still, the idea of becoming fluent in Chinese dazzled his senses.
He wasn't positive that teaching would be a good fit for him, but felt ready to gamble on his instinct.
Student becomes the teacher
It only took a few months for Fr. Dan to "fall in love" with the teaching ministry and his new home in Taiwan. Surrounded by men who served as role models for both education and religious life, he settled in quickly. A few years after completing his Ph.D. program, he started teaching Chinese-English translation at Fu Jen University. He also started working with a local, quarterly journal that shared short, contemporary Chinese-Taiwanese literature in English translation called the "Taipei Chinese Pen." He remained involved there for 12 years, quenching his natural thirst to be a writer. He also wrote a column in The China Post, a local English newspaper, for 22 years.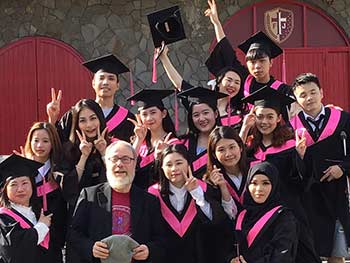 In addition to teaching duties, Fr. Dan and the other Divine Word Missionaries at Fu Jen University contribute part time to parish duties in the area.
During his 35 years as an educator at Fu Jen University, Fr. Dan has taught a variety of courses. Among them, composition and conversation, translation, creative writing, journalistic writing and broad survey courses in American and Western Literature.
"Education is always a two-way street. We hope every day here at Fu Jen to 'teach' our students various lessons rooted in our respective academic disciplines," Fr. Dan said. "We also strive to teach lessons about life itself, our religious beliefs, our faith in Christ. But we happily admit all the while that our students (and laity teaching beside us in our departments) are constantly teaching us, too. They educate us in their native languages (Taiwanese and Mandarin), and teach us every day about themselves, their world views, and their cultures."
SVD connection to the education ministry
From its earliest days, the Society of the Divine Word has emphasized the importance of education among its members and the people who Divine Word Missionaries serve around the world.
Founder St. Arnold Janssen was an enthusiastic priest. He was a publisher, retreat preacher and high school mathematics teacher. He encouraged men who joined his congregation to develop themselves as individuals who cherished words.
"He was intent on sending men to preach the words of the Gospel in lands that did not yet know the name of Jesus. But as a teacher himself, he saw also the value of his brothers and priests earning higher academic degrees, and preparing themselves to serve as teachers in the missions. He included 'teaching' as a broad goal in a wide swath of efforts in writing and publication," Fr. Dan said.
Education in the China Province
The education ministry allows Divine Word Missionaries to have a broad influence. In addition to Fu Jen Catholic University, Taiwan is also home to Fu Jen High School. Opened in 1962, the school is located in the southern city of Chiayi. The Taiwan SVD communities belong to the China Province. In that same province, across the Taiwan Strait and within the political authority of the People's Republic of China, the SVDs have also served at Sing Yin Secondary School in Hong Kong for approximately 50 years. And in nearby Macau, a handful of the congregation's confreres have taught at the University of St. Joseph since 2007.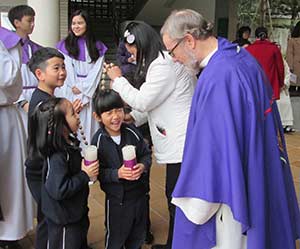 "They avail themselves of our services as spiritual directors and counselors as well," he said.
The Society has sponsored its Overseas Training Program in Hong Kong since 1986. A number of members who are now fully professed as brothers and priests started their adventures as foreign missionaries and students in the program at Fu Jen. Today, they do ministry in Taiwan, Macau, Hong Kong and other SVD provinces around the world.
"Thus, the work of Fu Jen Catholic University, and the work of all our missionaries in educational institutions in and out of the China Province, is closely in tune with the vision of our founder," Fr. Dan said. "Our school ministries in this part of the world, in Taipei, Chaiyi, Macau and Hong Kong, are rooted in the hopes and aspirations of our earliest days as a religious order."
Fr. Dan said he and other Divine Word Missionaries constantly pray that young members of the church and SVD candidates will develop an interest in mission that could lead to a career of service with the Society of the Divine Word.